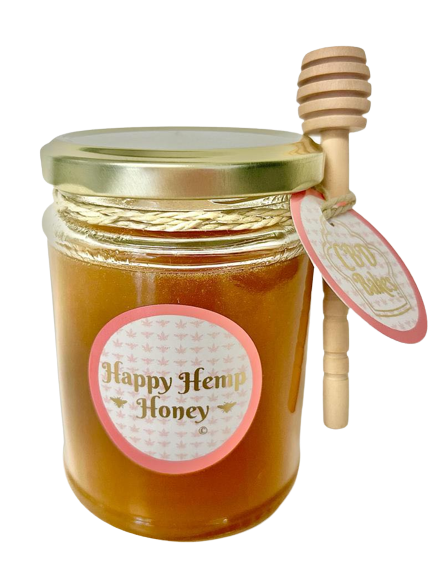 Happy Hemp Honey comes straight from the Hive to the jar.

Our Honey is made by Bees fed on the finest organic hemp in the lush open fields of Ireland. They produce a beautifully sweet hemp tasting honey that is packed with goodness made with the hemp pollen. Bees absolutely love Hemp!                                       To add an extra special touch we have combined our hemp fed honey with organic honey collected from five separate hives scattered across the Leicestershire Countryside. This process allows us to produces a Honey that naturally contains a mass of natural wealth, gathered from six different Honey Bee Colonies. This means that approximately 240,000 bees have helped to produce each and every jar. 
This unique bespoke recipe is packed with endless natural benefits and is guaranteed to be the most delicious honey you've ever tasted. Our honey isn't heated or filtered to ensure all natural goodness is preserved.
It is delicious straight off the spoon or added to Teas, Coffee, Baked goods, Deserts, Yoghurt, Soups, Bread, Butter, Sauces, Tinctures, Dressings and Marinades.
Please be aware that as this is REAL honey and therefore the whole sale amount we are to able supply maybe limited at certain times of the year.