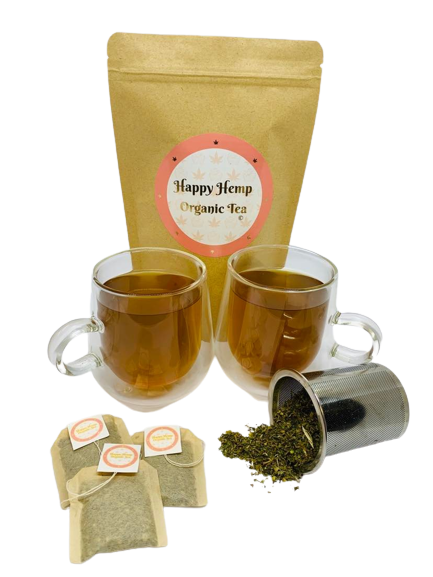 Available in tea bags or loose tea.
All products are below 0.01% THC content.
This product is not intended to diagnose, treat, cure or prevent any disease.
Our wonderful Organic Hemp Tea comes from the Futura 75 strain of Hemp which is famous for its high quality, its high level of natural wonder benefits and its slightly sweet lemony taste and aroma. Just add one of our Organic Tea Bags to your cup, or our Organic Loose Tea in one of our Infusion Tea Pots with some boiled water and you have Hemps Heavenly Benefits ready to simply drink. This Raw, Natural, Organic Tea is packed full with natural occurring antioxidants & essential fatty acids. To then increase its natural benefit & activate the Naturally Occurring  Cannabinoids within you simply have to add a drop of milk, cream or coconut oil.
Of course you can always add a little sugar, sweetener, syrup, mint, fruit such as Lemons, Oranges or Goji Berries all preferable of course to your personal tastes. This wonderful Organic Hemp Tea can also be cooled, chilled and served over ice as a refreshing Iced Tea on those hot summer days.
Additional information
| | |
| --- | --- |
| Type | 20 Tea Bags, 40g Loose Tea |